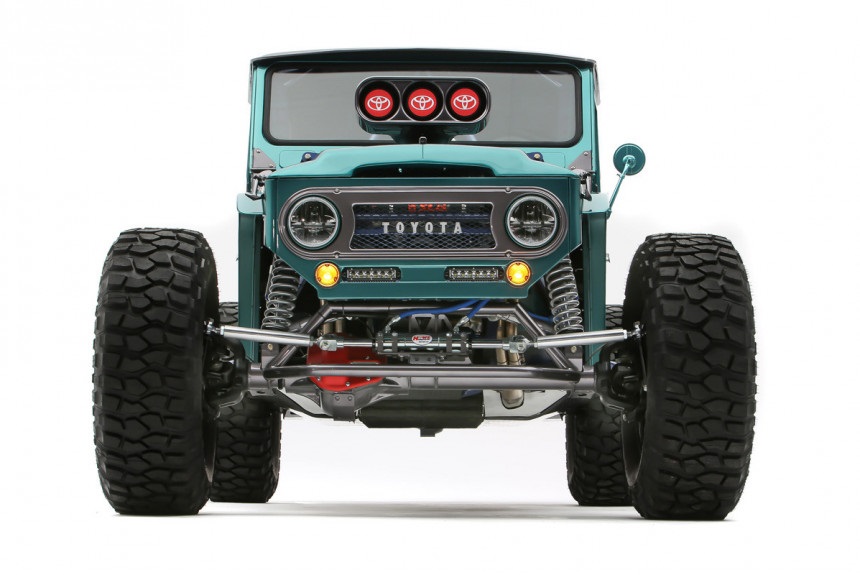 The SEMA exhibition, held annually in Las Vegas, is one of the largest tuning shows in the world. Manufacturers of various components from all over the world gather here, and many companies bring bright and even crazy designs of modified cars. Moreover, ready-made cars are shown by both private firms and automakers. We will tell you about the most interesting and memorable projects.
Toyota FJ Bruiser fully justifies its name, which means "bully" in English. Initially, it was a modest pickup truck Toyota Land Cruiser FJ45 sample of 1966, but in the process of refinement, only some external body panels remained from it. Bruiser is based on a completely original tubular frame, Fox shock absorbers and Eibach springs are installed in a long-stroke suspension (with two continuous axles). This big guy relies on 20-inch wheels shod in evil off-road tires BFGoodrich Krawler T/A KX with an outer diameter of 42 inches. Under the hood is a 5.9-liter V8 engine with a capacity of 735 hp, borrowed from the Toyota NASCAR series car and paired with a three-stage "automatic". Bruiser can both crawl on rocks and accelerate up to 266 km/h on asphalt. And for extreme off-road driving, a caterpillar with a chain drive is installed under the belly of the car!
Another madness on wheels is a 2003 Nissan 350Z, donated by Ashley Robinson from MLZ Garage. The original car got to him in a broken-down form for only $ 800 and was completely rebuilt. Instead of the lost rear part, Nissan got a spatial tubular frame, inside which a seriously modified Honda K24 turbo engine is installed along with a five-speed manual transmission HondaEP3. The most amazing thing is that exactly the same bundle appeared under the hood. Yes, this crazy Nissan has two engines and two gearboxes! Other improvements include air suspension, Brembo brakes (from Hyundai Genesis Coupe in front and double original rear) and carbon fiber body panels.
Meanwhile, Nissan itself has refined the modern Z-coupe. The Nissan Safari Rally Z Tribute prototype is not only a tribute to the victorious Datsun 240Z rally car of 1971, but also a response to the modern trend of endowing sports cars with off—road properties (it was set by Porsche 911 Dakar and Lamborghini Huracan Sterrato). The show car, built in the Tommy Pike Customs studio, boasts an adjustable KW suspension, Nismo body amplifiers and full-fledged power protection of the bottom and aggregates. The off-road Zetka is based on unique 17-inch Nismo wheels with high-profile Yokohama Geolandar M/T G003 tires. As a result, the ground clearance of the sports car increased by 50 mm. The standard V6 3.0 biturbomotor has been modified by AMS Performance, but its exact indicators are not given.
The Toyota Tacoma X-Runner concept went in the opposite direction from off-road to asphalt. The V6 3.4 turbo engine is borrowed from the larger Toyota Tundra pickup and boosted to 427 hp and 650 Nm. He also has a reinforced rear axle and an electronically controlled differential. In addition, the X-Runner has an air suspension with rigid Bilstein shock absorbers in a circle, a reinforced frame and a 76 mm extended track. The image of a street fighter is completed by carbon fiber wheels with a diameter of 21 inches, reinforced with forged aluminum elements, and Michelin sports tires with a dimension of 285/45 R21.
The 1969 Dodge Charger, nicknamed Tusk (Tusk) from the Ringbrothers atelier, adequately presented American classics at the exhibition. The well-deserved oil car is filled with modern aggregates. The place under the hood was occupied by a seven-liter V8 Hellephant engine from Mopar, developing 1000 hp and 1288 Nm. All this power is transferred to the rear axle using the Tremec six-speed mechanics. The front axle of the coupe is shifted slightly forward to increase the wheelbase and optimize weight distribution. In order to improve handling and stability, a Fox RS SV helical suspension and Michelin Pilot Sport 4S tires are also installed.
According to most, the classic elegance of the 1969 Jaguar E-Type sports car does not fit at all with driving sideways. However, drifter Faruk Kugai thought otherwise — and built his "arrogant" version of the Jaguar. A 2JZ-GTE perpetual motion engine from the iconic Toyota Supra model is installed under the hood, boosted to 750 hp. The transmission is a five—speed ZF "mechanics" taken from the BMW M3 generation E36. And the subframe, suspension and differential are borrowed from another BMW — the "five" generation E60. Such an unusual classic in cuba.
Continuing the theme of incredible combinations is a cute 1961 Volvo PV544 show car in deep wine color. The car called Iron Maven was built by the all-female Girl Gang Garage team, and its highlight is that under the classic body there is also a Volvo, but only 2019. The technical donor was the Volvo S60 T8 Hybrid sedan, although its chassis had to be shortened by as much as 46 cm. The body of the "old man", on the contrary, is expanded by 28 cm. It is no less surprising that the girls managed to maintain a workable interior of the S60 model with all modern amenities.
Finally, the American firm Flat Out Autos brought a prototype KR2 to the SEMA 2023 exhibition, that is, another attempt to revive the old Chevrolet K5 Blazer model. The KR2 is based on the Chevy Silverado 1500 WT 2023, the body and chassis of which were shortened by 56 cm, turning into a short-wheelbase two-door with a folding tailboard, and a removable carbon fiber hood is installed in the rear instead of the roof. The tuning studio offers various options for finishing and technical equipment, but the fork in prices for finished cars is still impressive: from 178 thousand to 202 thousand dollars. It is not surprising that fans of djiemovsky all-terrain vehicles are looking forward to an affordable serial revival of the Blazer K5 model.
(Visited 1 times, 1 visits today)